Interface: Ohio Turnpike Website - Ohio Turnpike Public Service Vehicles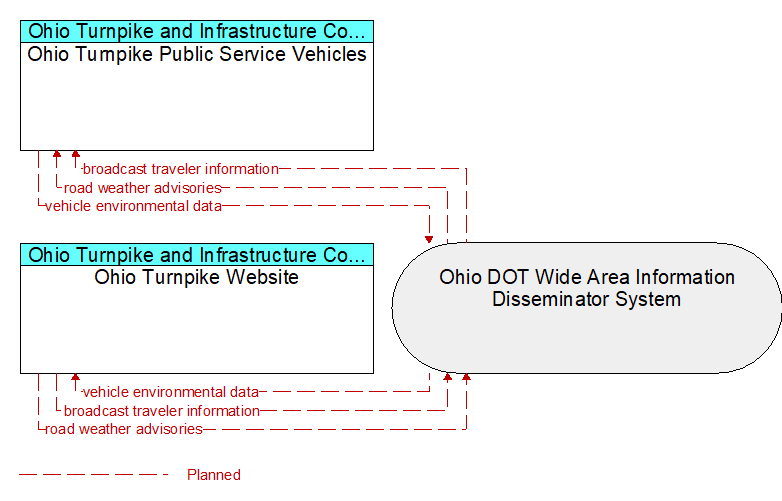 Architecture Flow Definitions
broadcast traveler information (Planned) Applicable ITS Standards
General traveler information that contains traffic and road conditions, link travel times, incidents, advisories, restrictions, transit service information, weather information, parking information, and other related traveler information.
road weather advisories (Planned) Applicable ITS Standards
Segment–specific weather and road conditions including real–time advisories of deteriorating road and weather conditions, medium–term advisories for the next 2–12 hours, and long–term advisories more than 12 hours into the future. The advisories may include advisories that are issued by the RSE based on locally collected environmental data (e.g., an ice on bridge advisory).
vehicle environmental data (Planned) Applicable ITS Standards
Data from vehicle safety and convenience systems that can be used to estimate environmental and infrastructure conditions, including measured air temperature, exterior light status, wiper status, sun sensor status, rain sensor status, traction control status, anti–lock brake status, vertical acceleration and other collected vehicle system status and sensor information. The collected data is reported along with the location, heading, and time that the data was collected. Both current data and snapshots of recent events (e.g., traction control or anti–lock brake system activations) may be reported.